Here at The Centerpiece, we love creating our beautiful signature arrangements for you. We always use the freshest, most unique flowers we can find.
We love having conversations with our customers and telling them about how we create our arrangements, the choices we make, and the materials we use. Often, we hear wonderful feedback from customers and recipients of our flowers.


"I've never seen an arrangement like this one - I love it so much!"
~~~~~~~~~~~~~~
"I love the style and look of the flowers!"
~~~~~~~~~~~~~~
"... looked so modern and clean - not like the traditional ones I'm used to getting."
~~~~~~~~~~~~~~
"I couldn't believe how many different flowers you used to create this!"


One common thread we find is that many customers remark on how unusual and innovative our looks are. Of course, this is by design. Our master floral artist, Ángel, creates each item with care and creativity. He personally approves every arrangement, bouquet, floral basket, or indoor plant that leaves the store. Nothing is more important to him than the satisfaction of our customers.
At the risk of giving you an inside look at our craft, we want to share with our customers what exactly makes Ángel's arrangements so different from anywhere else.
There are 3 elements to each design Ángel creates:

Materials
Structure
Artistry
1. The Centerpiece Uses Only Premium Materials
As you may have seen in the 'About Us' section of our website, flowers have been an important element of Angel's life dating back to his time growing up in Caracas, Venezuela. There, he learned how to care for all the different flowers and plants in his abuela's garden. For him, this craft is personal as well as professional. That's why it's so important for him to make you the most beautiful floral display he can. Each one is a tribute to that special time with his grandmother, who at the age of 90 still loves receiving photos of his work!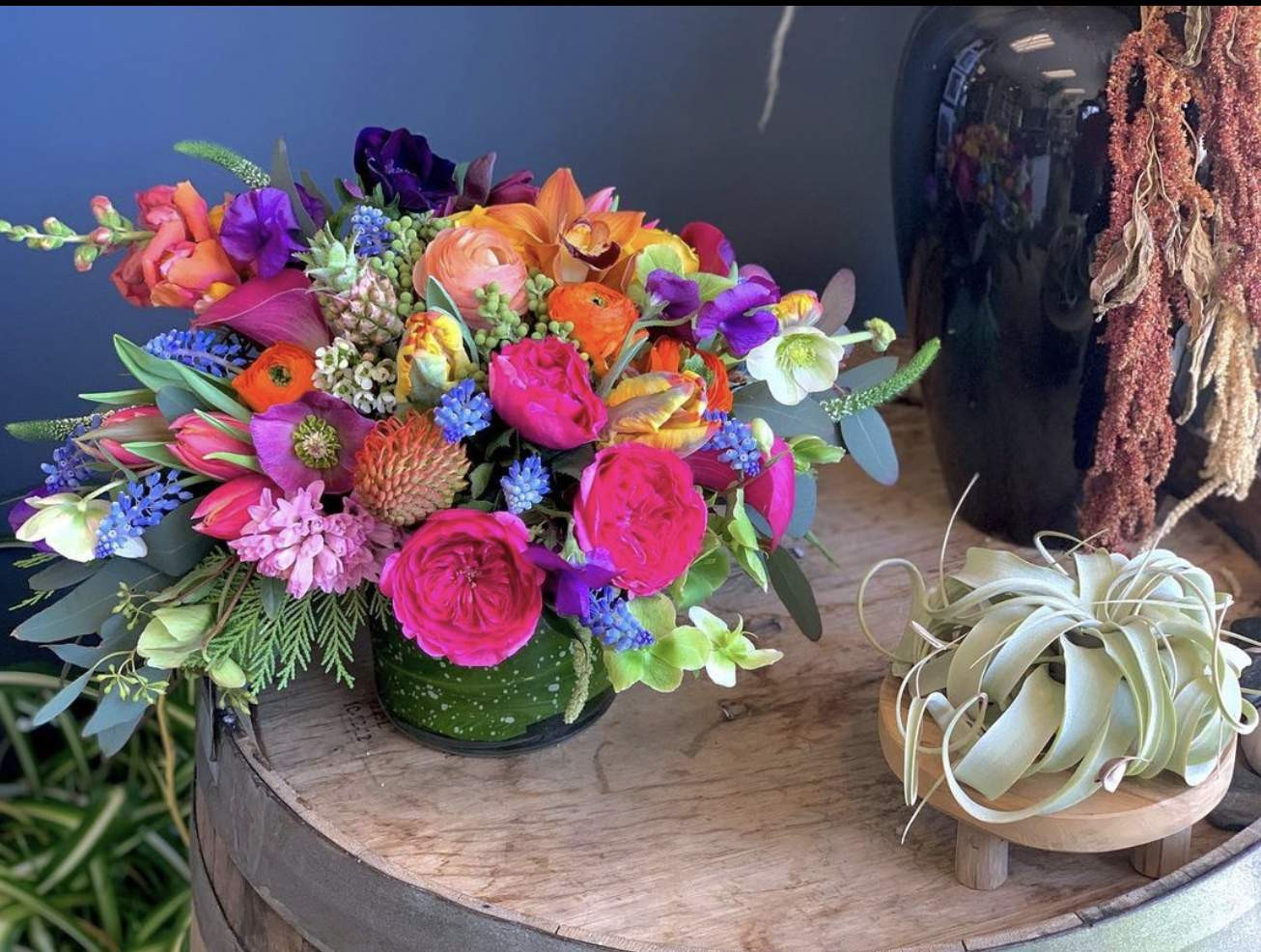 Just as a great contractor would use top-quality building materials, or a Michelin star chef would use the freshest ingredients, Ángel carefully selects every stem and feature of his designs. Several times a week, often before sunrise, Ángel drives into the huge floral wholesale market in Chelsea. Like a connoisseur, he inspects and selects only those flowers that he knows are healthy and just on the verge of exploding in color. Even his greens, specialty items, and houseplants undergo the same careful selection process.
When choosing flowers for you, Ángel is careful to maximize the seasonality of these agricultural products that have optimal times of the year for each item. That's why he loves when customers order a 'Designers Choice' arrangement — Unlike many other places that use leftover or close-to-expiration blooms, Ángel's Designer's Choice arrangements are full of the most festive, hard to find flowers that are sometimes only in season for a few weeks. For example, this week he has the most gorgeous bunches of double-tulips - Tulips that have concentric spirals of delicate petals. Because they are so fresh, they will slowly open over the course of the week you bring them home - each morning you will feel like the arrangement has gotten itself ready to greet you with a renewed sense of its beauty.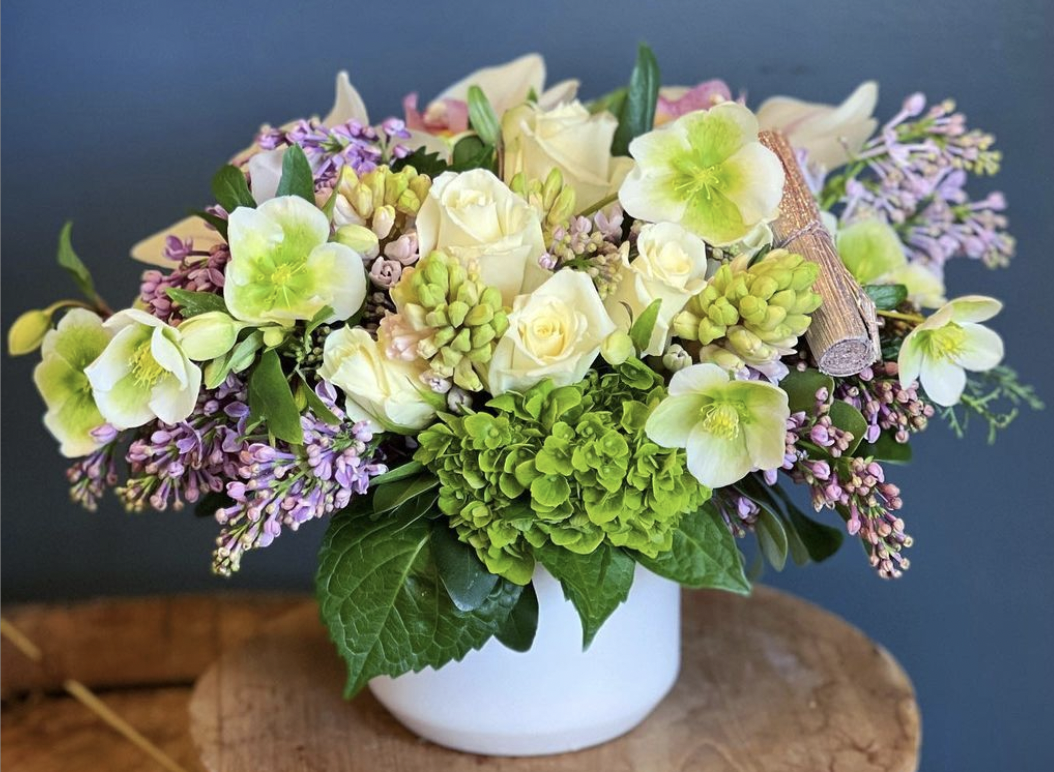 Some of Ángel's favorite flowers to arrange for you include puffy hydrangeas of all colors, petit garden roses all lined up along their singular stem, mesmerizing Italian ranunculus all spiraled like colorful scrolls, and bulbous proteas that remind him of the tropical sun of his native Caribbean beaches. Later in the year, he will go mad for billowy dahlias of all colors, and fragrant lilac and jasmine bunches. When you receive an arrangement from The Centerpiece, you can be sure that nothing is by chance, and every item has been purposefully selected for you.
While Ángel does love all shapes and textures of flowers, he has no tolerance for fillers, poor quality flowers, or artificial dyes that look unnatural. Many large flower networks that offer cheap arrangements that seem too good to be true are just that. They make money through volume, not quality. Some of the big guys 'stuff' their arrangements with fistfuls of carnations and layers upon layers of green palms. This gives the illusion of depth and bulk, designed to make the customer feel that they are getting a great value for their money. Instead, what they are getting are cookie-cutter designs and lots of fill. Those outlets are more akin to factories—pumping out dozens and even hundreds of the same arrangements each month. Ángel's work is more like an artist's studio, where materials and quality matter as much as the final impression his arrangements make on you.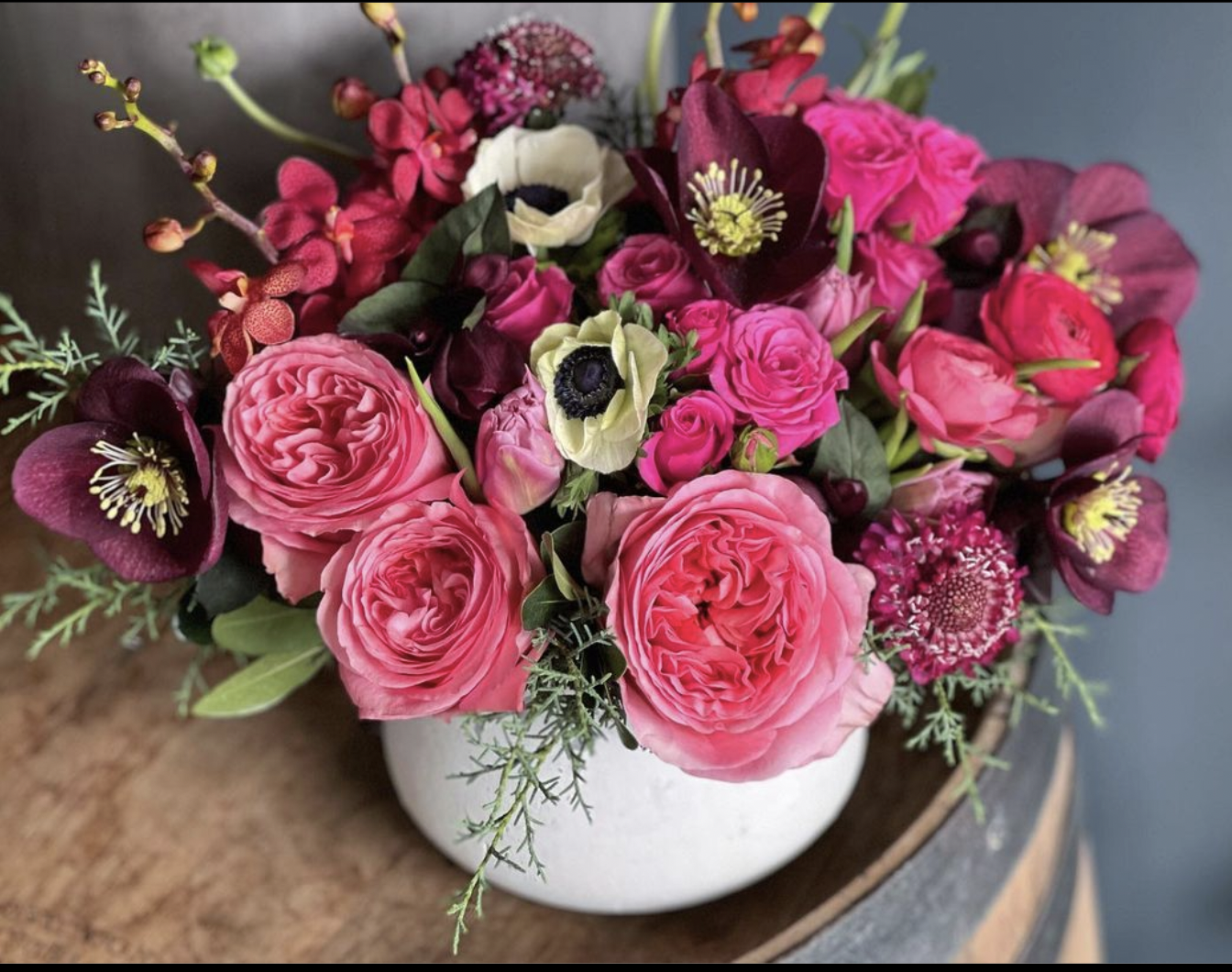 2. The Structure and Visual Balance of Our Work
When Ángel puts together an arrangement, he uses a backwards-design model. This means that he knows how he wants the final product to look, how it will sit in the vase, and how it plays off of the colors, textures, and specific flowers he's chosen. And he knows all of this before he begins creating. This is also where he's able to incorporate customer requests about things like how tall the arrangement should be, the occasion it represents, and what mood it should convey to the recipient or buyer. Our motto at The Centerpiece is 'Elevate Your Space,' because we want every one of our arrangements, bouquets, vases, or plants to make any location you put them elevated in style, mood, and artistry. We want them to be the first thing someone notices, and asks you about, as soon as they enter a room where our arrangement is displayed.
In building the structure of an arrangement, Ángel takes great care to make sure that it looks balanced—that feeling that it is 'just right,' but you're not sure why. Every individual flower and element within the design must be delightful as individual pops, but together the arrangement should be even greater than the sum of its parts. The arrangement's design should draw you closer, and as you bend to look carefully at each blossom's shape and textures, you'll want to turn the vase, consider it from all sides just as you would a fine sculptural creation. Each time you see it, you'll notice something new— a flower you haven't seen before, a ranunculus that appears a bit more open than it did yesterday, or the way that corner of the room now reminds you of a boutique hotel you may have splurged on once.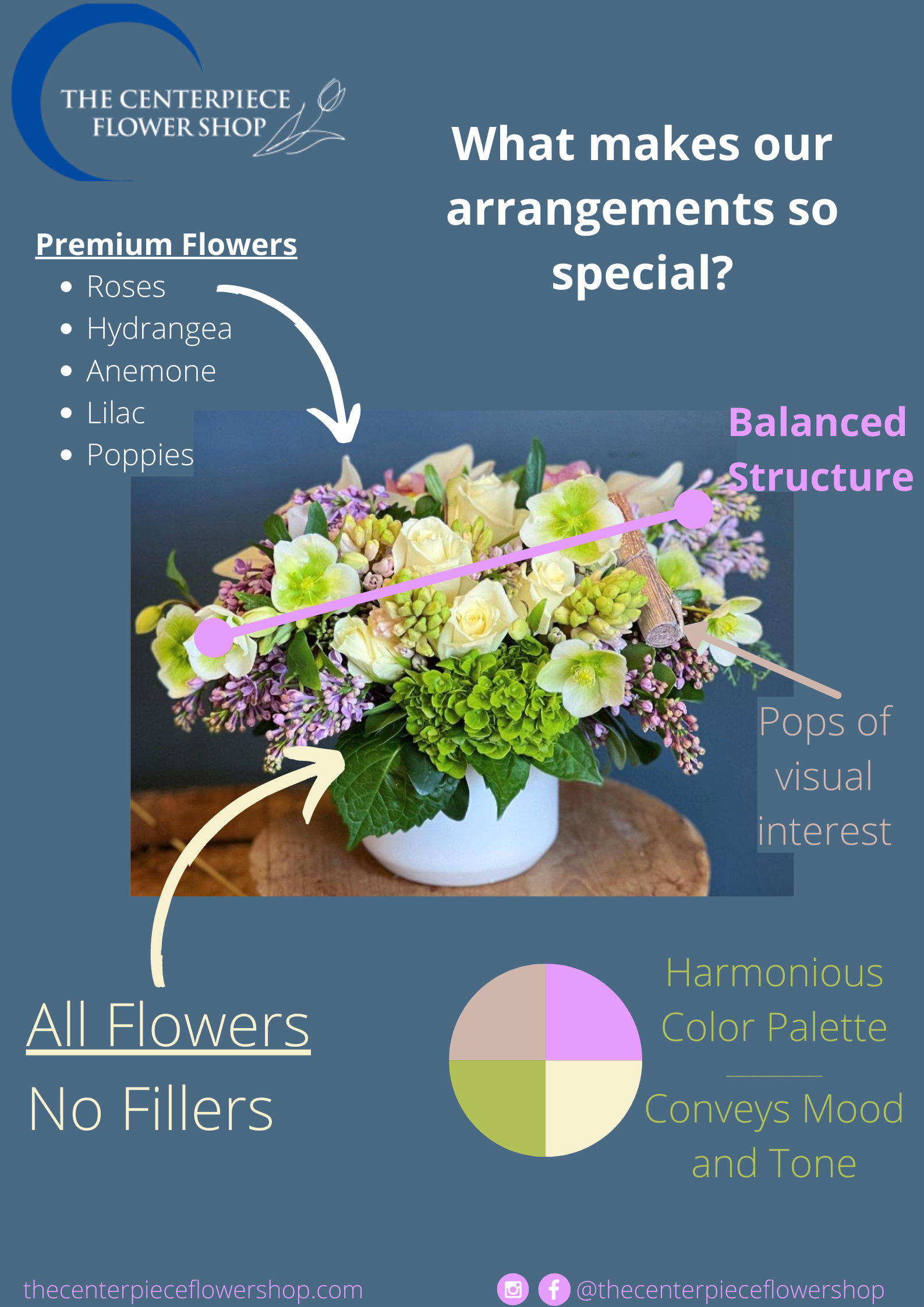 Sometimes, if you've ever just grabbed a quick bouquet from the supermarket or discount store, you may notice that they seem like they're bunched, thrown, and wrapped in that white and green waxy paper. They were. A beautiful arrangement or bouquet should never look haphazard or just thrown together—this is the danger of working with flowers, to assume that they will do all the work for you. Unfortunately, the big flower sellers work with volume and speed—Get the most product out the door as fast as possible.

That is not how we operate.
Because we know that when things are rushed and corners are cut, you can see it in the final product. Likewise, when Ángel carefully constructs his arrangements with deliberate care, you will know it instantly when you see your arrangement presented to you.



3. The Artistry and Style of The Centerpiece
When you receive or buy an arrangement from us, you know it's a Centerpiece creation. There's no one specific element that makes it so, but our joke around here is that we wish we could clone Ángel and double our offerings! He really is the one factor that makes our work better than any other place you might look for flowers. If you come visit us in the shop (and we hope you do!), you'll notice that our cooler is not filled with dozens of pre-made arrangements like in some supermarkets or larger flower shops. Sometimes we see customers walk straight up to the cooler and open the door expecting things all ready to go out the door. They are confused to see only our raw materials—usually the wrapped fresh-cut flower bunches that Ángel hand-selected earlier that morning. The magic has yet to happen.
This is something we're so proud to share with our customers. They are not paying for a wholesale bunch of stems wrapped in cellophane from the supplier. The true element that sets our work apart from all others is the creativity, visual literacy, and floral expertise of Ángel. He is taking all of those disparate materials and creating an artistic masterpiece, made to order and with your distinct needs in mind. He is a special kind of craftsman—one who brings all of his knowledge and life experience to his work. He has a background as a professional photographer, as is seen in our Instagram posts of our products. He grew up in a place where orchids were growing right outside his mom's apartment building, and macaws would land on his balcony to eat breadcrumbs from his abuela's outstretched hand. He has a distinct eye for natural beauty in the world around us.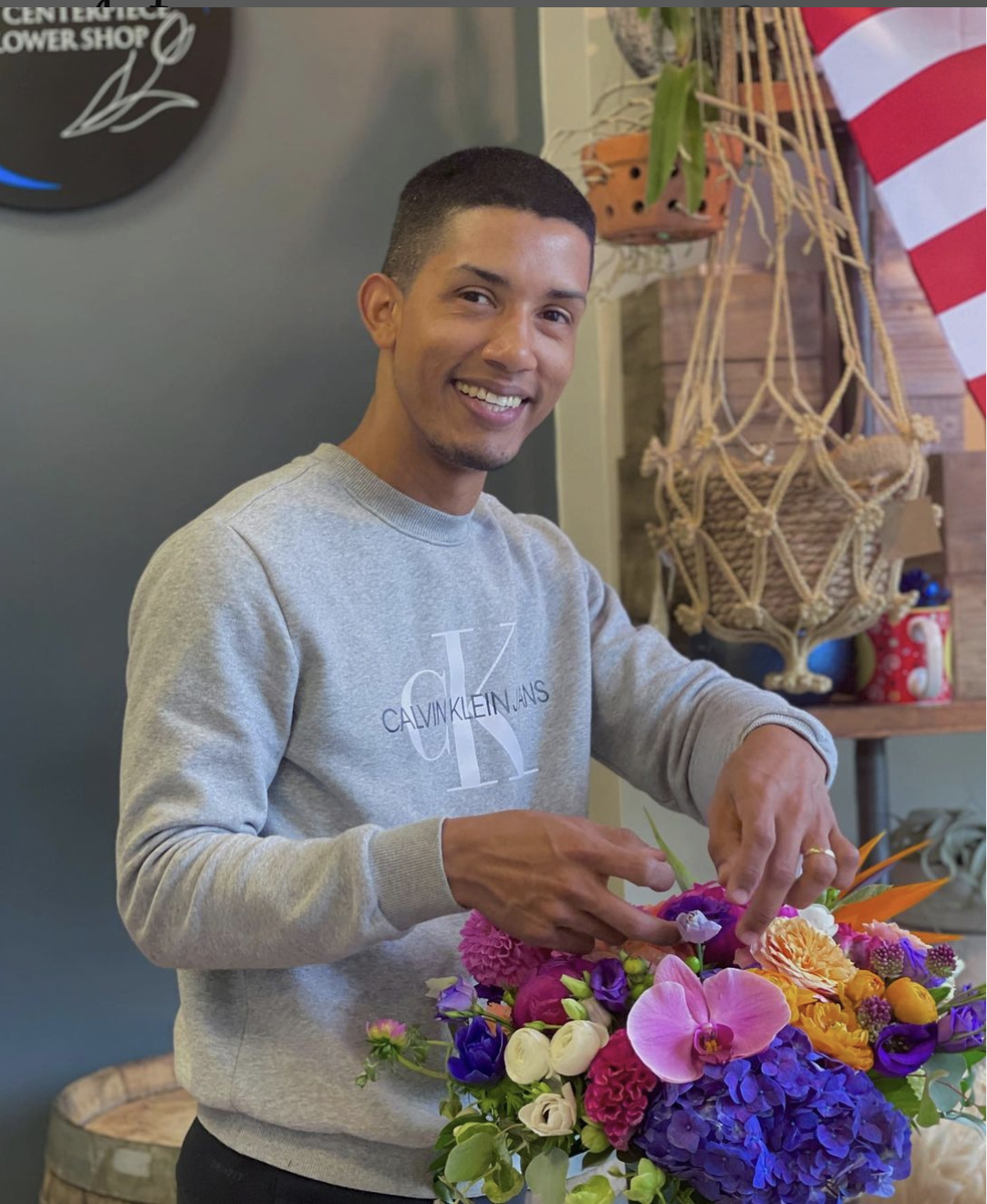 One of the greatest joys Ángel has is hearing from customers about how striking his work is when they see it. He especially loves when a recipient of a delivered arrangement calls the sender and immediately expresses how beautiful the flowers are, and the sender calls Ángel to thank him for creating such a unique display. Sometimes, when customers call to order flowers they tell Ángel to make something for a specific context—Get Well, New Baby, Thank You, or even I'm Sorry—and he knows exactly how to translate the sentiment into visual artistry with his work. It's often subtle - a darker blue here, or a puffy white hydrangea there- but it always hits the mark, both with mood and message.
When a customer comes to The Centerpiece, they are not just buying flowers. They are employing the services of a professional who cares so deeply about his work that each arrangement is meant to spark joy and delight, just as he experienced in his grandma's garden growing up. He wants the recipient to have an emotional reaction to his work, one that fills the room and stays in your mind long after the flowers have gone.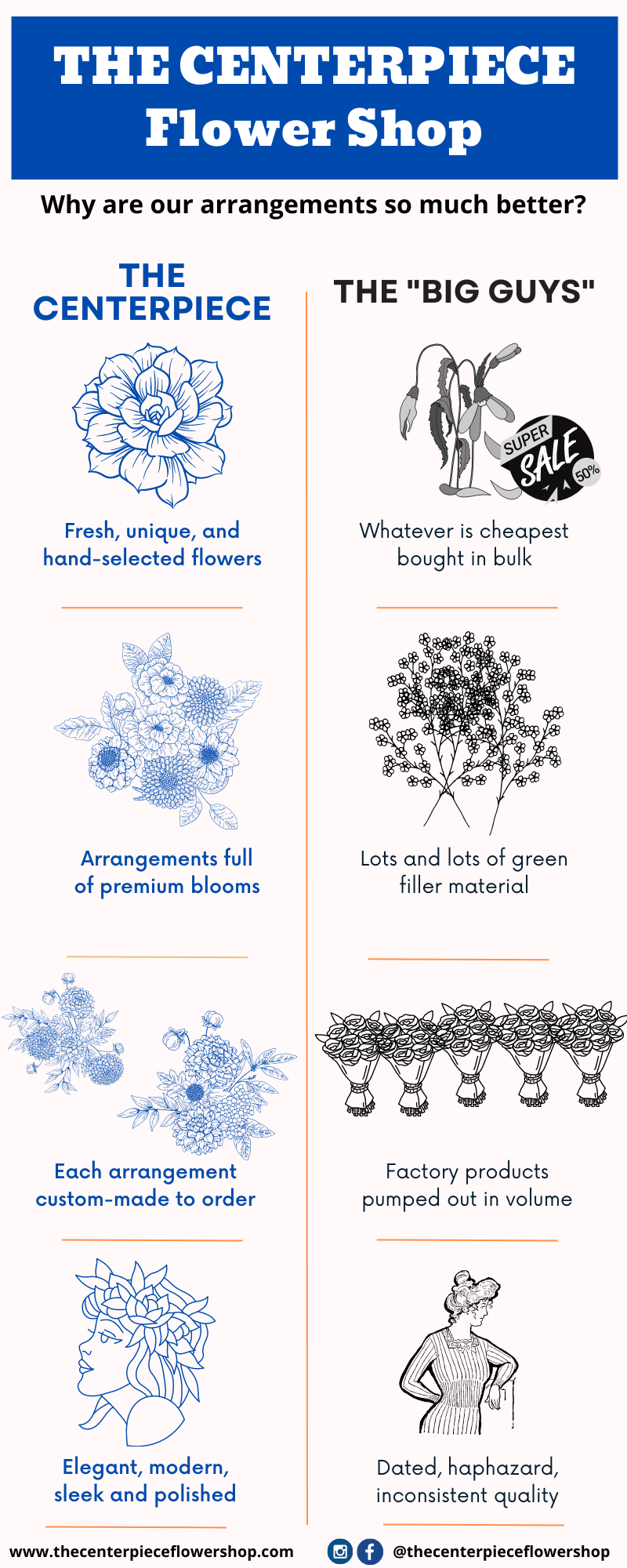 Nothing is More Important Than the Happiness of Our Customers
At The Centerpiece, we have one mission - to delight our customers with every product that leaves our shop. Ángel takes it as his personal mission to represent deep, complex emotion through the visual artistry of flowers. We are proud and happy that our customers keep coming back, and share our name with their friends. We are a small shop that takes full advantage of our ability to make that personal connection. Unlike the big 1-800 type suppliers, our shop isn't a factory assembly line, pumping out huge volumes of identical arrangements, stuffed with fillers and cheaper alternatives.
We see each arrangement we make as an extension of our shop, and of Ángel's reputation as a floral designer.
We take that seriously.
He takes that very seriously.


We hope you'll check out our website, our social media, or drop by the shop to look around and chat us up. We love when you recommend us to your friends and neighbors - word-of-mouth is helping us grow our business. And we hope you'll let us keep making flowers for you, and your loved ones, that help elevate your space in a way you love. Thank you.
—Ángel and The Centerpiece Flower Shop Team